Press Release
BBSec Launches PCI DSS supporting business for global companies
- It will support PCI DSS compliance activities and conduct on-site assessment for global companies in Asia/Pacific area -
Tokyo – May 22, 2015 – BroadBand Security Inc. (BBSec), a leading IT security service provider, announced today to launch global PCI DSS relating business including supporting PCI DSS compliance activities and conducting on-site PCI DSS assessment in Asia/Pacific region. The company has conducted PCI DSS related business in Japan and Korea since 2008 and now expands the business area to all Asia/Pacific region, which would be useful for Japanese or Korean companies involving global businesses in this area.

The company, the second oldest QAS company in Japan, became a QSA company in May 2008 and has supported PCI DSS compliance activities and provided on-site PCI DSS assessment for variety of Japanese and Korean companies. More than one hundred companies has used the service until now.

BBSec was approved as a QSA company in Asia/Pacific area on 11 May 2015 by PCI SSC and has started PCI DSS related business in this region to respond to increasing demand of PCI DSS compliance in this region. The company has formed a global QSA team with 13 QSA members whose nationalities are Japanese, Korean, Bulgarian, and Canadian to conduct PCI DSS assessment in Asia/Pacific area and to support PCI DSS compliance activities all over the world. The supported languages are Korean, French, and German as well as Japanese and English. The company also provides comprehensive support to solve variety of security issues as well as PCI DSS compliance.
About BBSec
Broadband Security, Inc. is the total security provider of diagnosis, administration, maintenance, and digital forensic for IT security. With the concept "to make IT networks in Japan as the most robust in the world", we supports the security side of IT service for various enterprises ranging from major companies and telecommunications carriers to IT ventures by utilizing high technology, abundant experience, and wide range of information collecting ability since the establishment in November 2000.  For more details please visit our website at http://www.BBSec.co.jp/.
Countries in "PCI SSC Regional Country List 1. Asia-Pacific"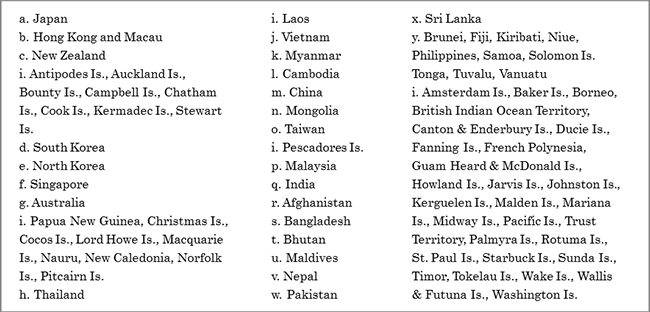 Press Contact:

Administration Department
Broadband Security, Inc.      

Email:press@BBSec.co.jp